Jack Bruce - Eric Clapton - Ginger Baker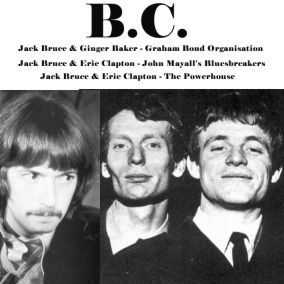 Graham Bond Organisation Live at Klooks Kleek (1965)

1. Introduction 2.05
2. Wade in the Water 2.43
3. Big Boss Man 5.05
4. Person to Person Blues 5.14
5. 1st Time I Met the Blues 5.10
6. Spanish Blues 3.15
7. Stormy Monday 4.16
8. Traintime 4.17
9. Early in the Morning 4.14
10. What'd I Say 5.25 (41.50)

John Mayall's Bluesbreakers Live at The Flamingo Club (Nov. 1965)
11. (Introduction) Maudie 2.23
12. It Hurts To Be In Love 3.19
13. Have You Ever Loved a Woman 6.40
14. Bye Bye Bird 3.47
15. Hoochie Coochie Man 3.39
16. Stormy Monday 4.30 (24.31)

The Powerhouse (1966)
17. Crossroads 2.14
18. I Want to Know 2.13
19. Stepping Out 3.12 (7.39) (74.15)

Remastering: The Grahame Bond is from acetate and has been reworked to represent a set. Sound quality is only reasonable for a semi-professional recording but some bass boost has improved balance. A strong performance giving a good idea of the power of this band.

The John Mayall has been around in various forms but never issued as a complete set as above. Clapton is burning on this and Jack benefits from some bass boost.

The Powerhouse were some promo tracks for a US compilation. Ginger was slated to be the drummer but never turned up. Jack ened up being the musical director. Solid but hardly startling perfromances though Steve's voice is great on "I want to know".